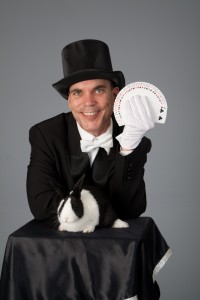 The Amazing René is a Master Magician, Comedian and Entertainer!

For onwards of 25 years, The Amazing René has been performing and entertaining audiences of all ages at such venues as Major Theme Parks, Theatres, Comedy Clubs, Festivals, Resorts and Television.
Whether you need entertainment for a small intimate gathering or large formal event, The Amazing René delivers with performances that are always perfectly adapted and suited to your specific goals and needs.
When only a Professional, Experienced and Highly Entertaining Performer will do, trust the expertise of The Amazing René to help you plan and organize one of the most memorable and charming performances your guests have ever witnessed.